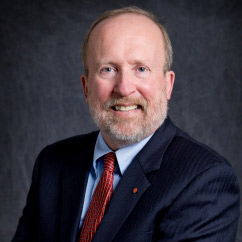 Laurence Kaptain, M.M. '75 was named Dean of the LSU College of Music & Dramatic Arts in August 2014. He most recently served as the founding director of creative initiatives in the Office of Research and Economic Development at Louisiana State University, and prior to that was Dean of the College of Music and Dramatic Arts. Prior to joining LSU, Kaptain was the dean of the Shenandoah Conservatory of Shenandoah University in Kentucky. Prior to his appointment at Shenandoah, he was director of the Schwob School of Music in Georgia and vice-provost at the University of Missouri-Kansas City.

A highly accomplished percussionist and symphonic cimbalom artist, Kaptain is a founding partner of the Alliance for the Arts at Research Universities (a2ru), a partnership of 30 institutions committed to transforming research universities to ensure the greatest possible institutional support for interdisciplinary research, curricula, programs and creative practice between the arts, sciences and other disciplines. He currently serves on a2ru's strategic communications committee and plans to continue his involvement with the organization, hoping to bring in CU Denver as a partner institution.

Kaptain recently served as President of the Association for General and Liberal Studies and is currently the Treasurer of the College Music Society. In 2014 he was named a Fellow in the Royal Society of the Arts. Prior to assuming this post at LSU, he was dean of Shenandoah Conservatory near Washington, DC, Director of the heralded Schwob School of Music in Georgia, and Vice-Provost for Faculty Programs and Academic Quality at UMKC.

He received the first doctorate in percussion instruments at the University of Michigan, where he was a Fulbright Scholar in Mexico and received the prestigious Rackham Graduate School Pre-Doctoral Fellowship. Kaptain appears regularly with orchestras, including the New York Philharmonic, The Chamber Music Society of Lincoln Center, the Philadelphia Orchestra, the San Francisco Symphony, Pittsburgh Symphony, and has recorded with the Chicago Symphony, St. Louis Symphony, Orpheus, St. Paul Chamber Orchestra, and the Czech National Symphony. He has also appeared, collaborated, or recorded with artists such as Elvis Costello, Yo-Yo Ma, Karlheinz Stockhausen, Robert Altman, Rudolf Nureyev, Suzanne Farrell, and others. Kaptain majored in performance at the Frost School of Music.