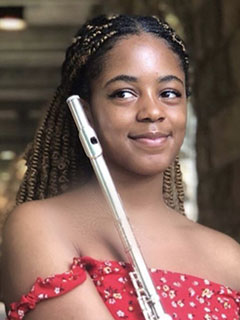 Cierra Hall began studying classical music at the Baltimore School for the Arts. She went on to receive her Bachelor of Music Degree from Manhattan School of Music. Currently, she is pursuing her graduate studies at the University of Miami, where she has a full-tuition scholarship.

During her high school years, she was a featured soloist with several ensembles at the Baltimore School for the Arts. As a member of the Baltimore Symphony Youth Orchestra, she has performed at the John F. Kennedy Center for Performing Arts and the Joseph Meyerhoff Symphony Hall. Cierra also received the Patapsco River Maryland Women in the Arts Award.

In New York City, Cierra served as principal flutist of the Grammy-nominated New York Youth Symphony and performed a variety of orchestral repertoire at Carnegie Hall. In 2020, she was the recipient of the Vetter -Vargas/Ukena fellowship, which awarded her $5,000 toward her musical studies. At Manhattan School of Music, Cierra's wind quintet was a selected winner of the Lillian Fuchs Chamber Music Competition.

At the University of Miami, Cierra is a Henry Mancini Institute Fellow giving her the opportunity to perform works from genres including jazz, classical, and pop. As an orchestral musician, Cierra has performed with Symphonia Boca Raton. She has attended Sewanee Summer Music Festival and Kent Blossom Music Festival.

This past summer, Cierra attended Festival Napa Valley. In the past, she has performed in masterclasses for Demarre McGill, Nadine Asin, Amy Porter, and Ransom Wilson. In 2022, Cierra received an honorable mention for the Pierians Young Arts Award.

Aside from performing, Cierra is a dedicated music teacher. She is a teaching artist for Miami Music Project, which is designed to bring music to children from underserved communities.